I was reading last night about home cooking and it was another statistic showing that the health of the family was far better after 15 years of home cooking than eating out or processed foods. I can't remember the exact details and will post tomorrow but the truth is there. Forgive me for being repetitive but make sure that you are learning to cook from scratch and doing it as frequently as possible.
I have been venturing out a bit this week and made homemade ricotta, tonight I'm going to give homemade sour cream a go. When I ventured into raw cooking a few years back, I learned to make homemade nut butters with simply oil, nuts and a really high quality processor. Pestos are delicious and so fun to make throwing pine nuts, your favorite herb... I loved basil and cilantro and oil into a processor. Enjoy the flavor and health of fresh ingredients and fresh foods.
If getting fresh is a bit harder, the next best thing is frozen. They typically freeze immediately after picking for fresh ingredients. Some tend to be soggier but it is the next best thing.
It's been a hard week for me. I have had a recent death and one on the way. Both from cancer. It is the reason I am pushing with so much ferver at the importance of natural foods. Foods in nature are healthy. Cancer is not an issue when your diet is right. Convenience can end up deadly. There are too many chemicals in the foods that are packaged now and it's just not healthy. Jillian Michaels is even a big spokesperson on not eating canned foods. There are chemical even in them that are toxic. Home canning is a delight and so much healthier. It's just a matter of getting a few supplies and boiling food in some hot water. Get a canning kit. Instead of buying green beans, can some green beans. Instead of buying jellies, make your own with pectin. Learn to make salsas, sauces, salad dressings, marinades etc... from scratch and can them.
Buy your meat and vegetables in the purest form possible. What you eat will determine your health and your family's health in the years to come. It's just not worth the risk to eat chemicals anymore. I had a long term diet coke addiction for quite a while. It wasn't good and I felt it. I would literally buy a soda in the morning for the fizz and the wake me up and within minutes I came down with horrible headaches often with neurological symptoms and often even a cough.
Use pure... butter, milk, cream, fresh cheeses, fresh vegetables, fresh meat, fresh nuts. From these ingredients you can make everything you can buy and I promise it's so much easier than you would ever believe.
To show you, I will post a sour cream recipe
When you see how simple it is, you will be amazed that you buy these ingredients when you could just make them at home. Start doing so. Be amazed at the flavor, enjoy the improvement in health. When I started this diet I felt worse at first. Coming off of the toxins and the chemical addictives is a bit tough at first but as your body becomes more pure over a few months, you will feel it. It was a few months later that I noticed less headaches. A few months after that, my skirt became looser and this is eating homemade doughnut, homemade breads and desserts like you wouldn't believe... but I get in my fruits, vegetables, protein, dairy and grains every day. I plan out my meals and you can too. I make things from scratch and enjoy doing so. It tastes so much better and is always surprisingly easy.
It takes more time than you may be used to being in the home but I think you will be surprised at how much happier you will be. There is something so soothing about having a cozy home decorated and clean with amazing foods and time to groom and look lovely. Even you will love it. You will find it's the most rewarding experience in the world.
Start with one thing from scratch. Then as you delight in the results add a few more. Don't force yourself to make drastic changes but do work to do a little better each day.
Make miniture goals. Perhaps it is making dinner three nights this week.
Next week add a night or two. Then another
Make it your goal to do dishes every night.
Then when you master that, start to do your food prep the night before.
Start with small goals and keep adding to them. If you aren't getting through the daily checklist eady day, make it your goal to do three items each day. The next week, do four items each day etc.
Do this until you can get through everything. It will make your life happier. I promise you. You will be amazed at how amazing you feel in a few months as you start mastering the system of organization, meal planning, house keeping, and even romancing your husband, and being a nurturing mother. I am going to get to where I do more scheduled writings. I tend to write on what I am experiencing at the moment but I will be touching base on parenting, weight management, anti aging, keeping a lovely home, entertaining, marriage and romance, self esteem, goal setting, beauty advice and more. Stick with me and I will get you to where you want to be.
I will post new looks as I am able. We are doing a fundraising drive to help those in Moore Oklahoma affected by the Tornadoes. Any order you make a portion of the profits will go to those in need. Thank you so much for helping me help them.
Across the eyelids - "Lime" mineral eyeshadow to the brow. Brows were defined with "chocolate Kiss" mineral eye shadow brushed lightly over them. Eye corners were accented in "Truffle" Mineral Eye shadow as well as coming under the eyes a bit. Lips - Wild About Pink True Dimensions Anti Aging Lip Color, Lashes - Lash love Mascara - I Love Black. Foundation - Ivory 5 Luminous Wear Liquid Foundation
Enjoy the following recipes. You can do it!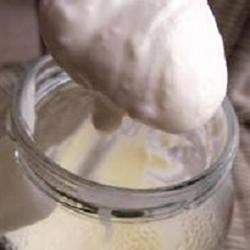 Homemade Sour Cream
Ingredients
Original recipe makes

1 cup
Directions
Combine the milk and vinegar and let stand for 10 minutes. Pour the heavy cream into a jar. Stir in the milk mixture, cover the jar, and let stand at room temperature for 24 hours. Chill before using.
Homemade Mayonnaise
Recipe courtesy Anne Burrell
Prep Time:15 min

Level:Easy

Serves:2 cups
Ingredients
Directions
Place the egg yolks in the bowl of the
food processor
and add the vinegar and mustard. Season with salt, to taste. Turn the machine on and VERY slowly start to
drizzle
in the oil. Drip, drip, drip until the mixture starts to look like mayonnaise, then a slow steady stream of oil can be added.
Cook's Note: If the
mayonnaise
is too thick add a few drops of water or if it is not thick enough, with the machine running, add a little more oil.
*RAW EGG WARNING
Food Network Kitchens suggest caution in consuming raw and lightly-cooked eggs
Due to the slight risk of
Salmonella
or other food-borne illness. To reduce this risk, we recommend you use only fresh, properly-refrigerated, clean, grade A or AA eggs with intact shells, and avoid contact between the yolks or whites and the shell.
* Raw Eggs
*RAW EGG WARNING
Food Network Kitchens suggest caution in consuming raw and lightly cooked eggs due to the slight risk of salmonella or other food-borne illness. To reduce this risk, we recommend you use only fresh, properly refrigerated, clean grade A or AA eggs with intact shells, and avoid contact between the yolks or whites and the shell.
Much love
Veronique